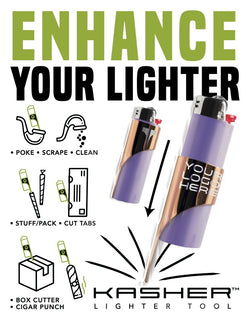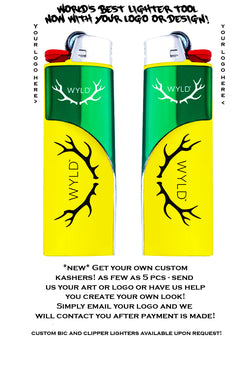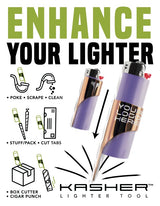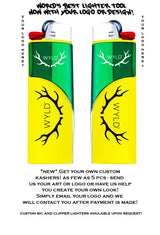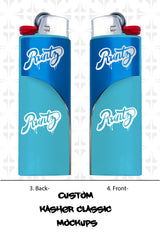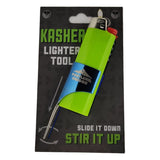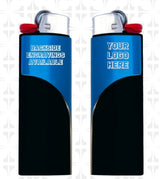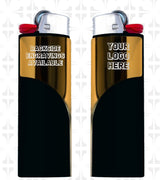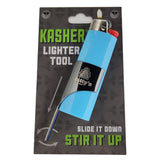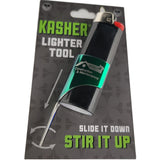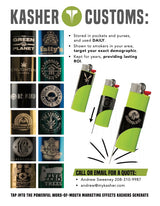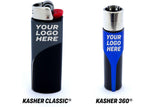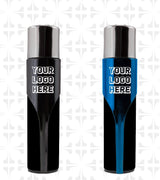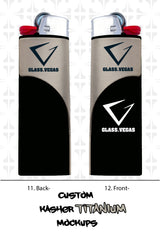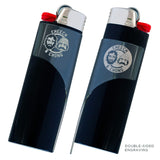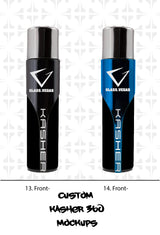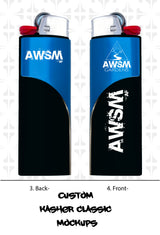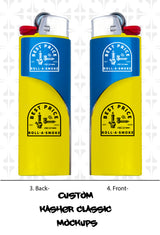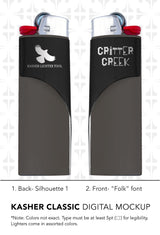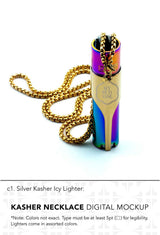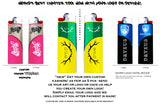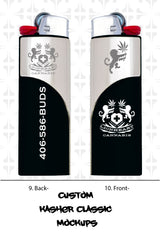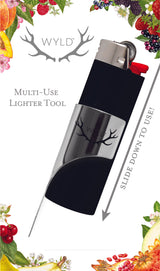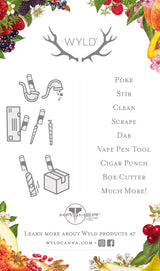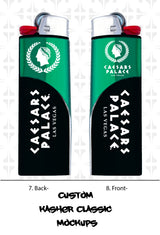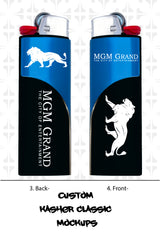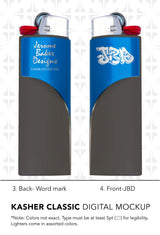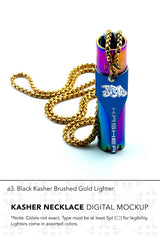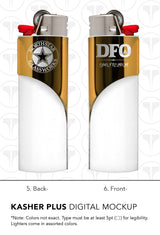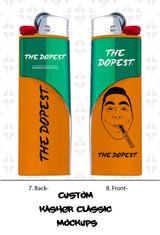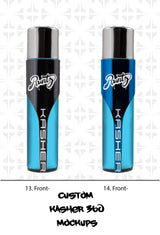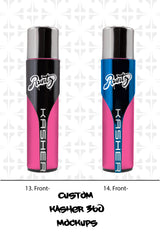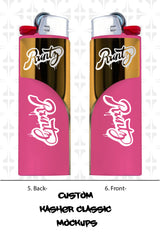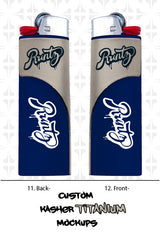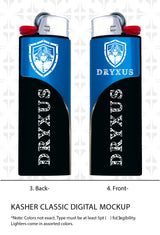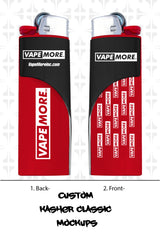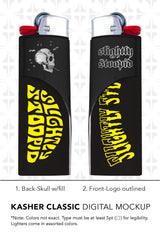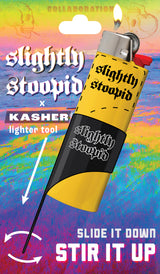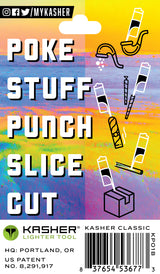 CUSTOM Kasher® Lighter Tools
These prices include a $25 artwork fee and $15 engraving set-up fee. Keep reading to see how to save the $25 artwork fee. If you are placing a re-order and using the same artwork, please contact us and we will waive the artwork fee (we will send you an invoice via PayPal or Quickbooks to be paid easily online). Also, if you have engraving ready art (one color vector file), we will waive the $25 artwork fee - please use the link above to contact us with your art and order details.
CUSTOM KASHER® LIGHTER TOOLS, ENGRAVED WITH YOUR LOGO - NOW ORDER AS FEW AS 5 UNITS! Don't own a business or brand? No worries! Get your name, initials, create some of your own artwork - you can engrave anything you want! Identify your lighter and customize the best lighter tool known to mankind! It will prevent the pesky accidental pocketing of your lighter during your sesh - don't believe us? Ask some of our customers who have had their same Kasher for literally 5 - 10 years! We have proof! Most times people just forget which lighter is theirs. Problem solved! Get a sick design engraved on a batch of Kashers (potentially designed by YOU) and everyone will know it's yours. 

They make excellent gifts, stocking stuffers.. are great for special events, birthdays, weddings (groomsman or bridesmaids gifts), parties, celebrations, anniversaries, event invites, hell, you can even turn your Kasher into an NFT! Get some for your fraternity or sorority, or design your own zodiac sign; the possibilities are endless! We are stoked to offer custom Kashers to ANYONE, they are no longer limited to businesses and brands.
..but speaking of brands, if you do happen to own a business or brand, are in a band, or have any message you want to spread to the masses, custom engraved Kashers are literally one of the best promotional products money can buy! Bold statement? Hell yes it is, we wouldn't still be around after nearly 15 years if people didn't absolutely LOVE our products. First off, lighters are one of the top 10 items found in pockets worldwide. Plus, can you think of another product you can engrave your logo on that checks all three of these boxes:
1) People use them DAILY! Not only that, people bring their Kasher everywhere they go: in their pocket / purse / backpack / car / etc... (think of all the free swag you got that either went straight in the trash, or maybe got used once or twice before getting tossed).
2) People actually WANT to, and are eager to show them off and share them with their friends. Kashers have proven to be conversation starters. Many friendships have started from this simple tool; it's truly a beautiful thing. Plus, the first question people always ask when first shown a Kasher is "where did you get that?" With your logo front & center, it's unbeatable word-of-mouth marketing that is targeted to others in your area and beyond.
3) Kashers last for years providing lasting ROI on your marketing spend. Most other promo items are lucky to even make it home from the show or event.. and if they do, they MIGHT get used once or twice - if you're lucky. Lanyards? Koozies? Bags? Mugs? Pens? None of these have the WOW factor that Kashers provide; the virality provided by this genius invention. T-Shirts are great but people don't wear them everyday. Custom lighters are cool too, but they have no function besides a spark... and custom lighters are so common, nobody stops to even look at what logo is on them let alone show it to their friends. And that's the key - Kashers are something people want to share, plain and simple.
Now here's the kicker: compare custom Kashers to any other form of paid advertising - print or digital. As soon as you stop paying your monthly bill for print or digital ads, your ad stops running. With custom Kashers, you pay for them once and they provide targeted word-of-mouth advertising for YEARS to come. There's literally no time limit on them. We see people at shows all the time, get emails, and DM's from people who have had their same Kasher for 5, 6, 7, 8+ years... with the logo still rocking. Try and find another promo item that does all of the above... if you can show us one that has even half the functionality that Kashers do (literally hundreds of uses and counting..), we will pay for your first batch of customs! We know you will certainly come back for more.
Here's some more info about the customization options and process... but if you are on the fence about this, trust us, we guarantee Kasher will be a household name one day, people are finally connecting the dots and realizing how handy and how many uses Kashers provide. We've now sold over TWO MILLION units and are coming up quick on three. Kashers are blowing up and we can barely keep up with demand.. and the crazy thing is, we are barely scratching the surface.. lucky for you, most people still don't even know they exist yet. There's still time to be the trendsetter who's the first in your circle to recognize the next hot brand (you know, the person who knew about a band before anyone else, and before that band blew up - everyone wants to claim they saw them first). There's no better way to prove that than getting your name, initials, or hell, your freakin' face engraved on the handiest lighter tools in the universe!
We've seen some pretty cool engravings over the years! Get creative; spark one up and think of a cool ass design to engrave on your very own batch of Kashers. Backside engraving is available too so you can add artwork, contact information, website(s), social media handles, or just a cool saying... one of our favorites is one of our smoke shop customers engraved "Be Kind", with a smiley face for their backside engraving.
Available to fit BIC® or Clipper® lighters
Color options: Black, Silver, Gold, Blue and Green
The KASHER® lighter cover is not only an aesthetically pleasing decoration, it's literally a conversation piece – it will add real value to the promotional and marketing gifts you currently offer by providing continuous, in-use marketing at an affordable price.
Upon completion of your order, you will be contacted by a KASHER representative to finalize your artwork and hammer out all the product options and details for your order.
Once you email us your artwork, we will provide digital mockups for your written approval. During this step you can select what color you would like, if you want Bic or Clipper (or both), front and/or backside engraving, and request any changes to the artwork before we send your order to production. 
You will also have the option to add lighters and/or blister packaging to your order so they arrive ready to rock. For retailers, we'll make sure you get lined up proper with POP displays, packaging, and marketing tools to fit your needs. Custom lighters are also an option, but remember, people always keep their Kasher, but when the fluid runs out, the lighter gets tossed and the Kasher goes onto a new lighter making Kashers much more effective marketing tools in the long term when compared to custom lighters alone (not to mention all the super handy uses Kashers provide and sleek, sexy look they add to any lighter).
If you have questions about higher volume orders, custom lighter pricing, private label packaging, or any other questions / concerns, please email admin@mykasher.com or call 866-727-2256 and we'll be happy to answer any questions you may have and provide you with a customized quote. Turnaround times depend on your artwork, qty, and the quickness of your communication with us.