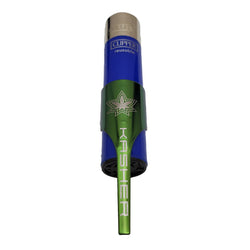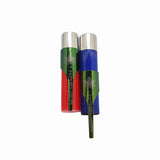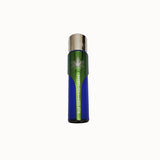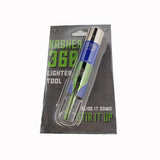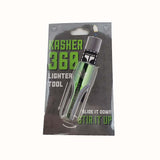 $7.99 WITHOUT Clipper® Lighter. $9.99 WITH Clipper® Lighter
*Lighters come in assorted colors. 

Single (1) quantity pricing reflects a single Kasher with or without a single lighter.
The high quality, hardened, stainless steel, Leaf Kasher lighter tool comes in an interesting iridescent green. At the right angles and with the right light you can see shades of purple shining on this Leaf Kasher.

These are engraved with a 7-pointed leaf design with 2 outlines. 
Available with or without lighter.
Kasher lighter tool is made to fit snugly on a CLIPPER lighter. It is approximately .8mm thick, and has an arced tip (bottom of Kasher) to enforce the structural integrity and to improve the ability to clean a curved surface.
Complements any lighter color, and drastically improves its functionality. Advised to use on a lighter without plastic sheet.
Poke, stir, clean, stuff, punch with ease! The Kasher Lighter Tool's uses are only limited by the imagination.
Looking for more information about how to get your Kasher on a lighter and how to maintain it? Check out our Tips & Tricks page.