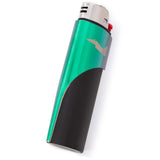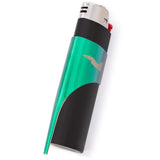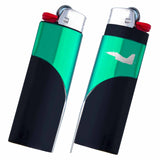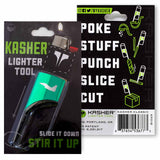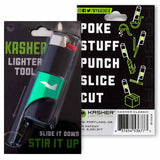 $7.99 WITHOUT
 

BIC

® Lighter • $9.99 WITH

 

BIC

® Lighter
One-sided laser engraving
*Lighters come in assorted colors
KASHER salutes the amazing people who make up our country's military.
Special Edition KASHER Jet in Military Collection
This KASHER® lighter tool fits a BIC® lighter and features a laser engraving on one side with a jet design on a green KASHER.
Support your country, and rock a dynamic tool. Fulfill your crafty smoking needs with this tool; it'll poke a hell of a bowl.
New Curved Tip on all Military style KASHER Lighter Tools
This arc makes the KASHER® fit even closer to the body of the lighter it adorns. It also increases the structural integrity of this seamless multi-tool.
In addition to this design improvement, we have also increased the thickness of the attachment, and are sourcing harder stainless steel.
These are the strongest, sleekest KASHER® lighter tools yet!
Trying to sport a little KASHER® garb? Check out our sweatshirt design!