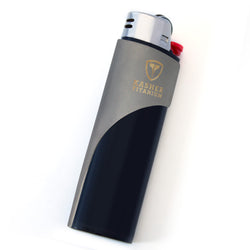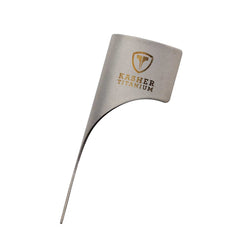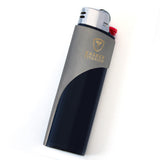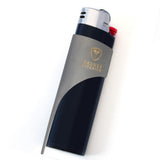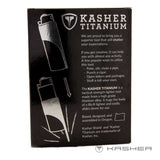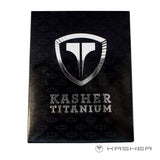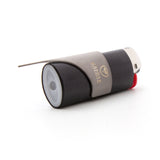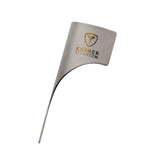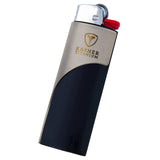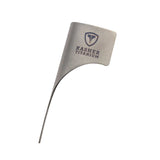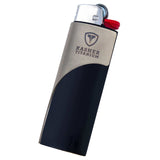 Kasher TITANIUM® - Sandblasted
It's finally here, the KASHER made from 100% Pure Grade 2 Titanium.
The Sandblasted Kasher TITANIUM®
We are proud to present the Sandblasted Kasher TITANIUM®!
The KASHER Titanium is 1 mm thick, and fits snugly over any BIC® lighter. It's super strong and durable, so you will never have to worry about it breaking or bending. These are TACTICAL strength!
Lightweight & Strong
Matte finish
GOLD or BLACK laser engraving on Sandblasted version
EXPLORE THE KASHER TITANIUM®
Patented contemporary styling in a premium Kasher® lighter tool at a nice price — what's not to love?
Trendy and dynamic, this Kasher® is pure titanium and has it all — lightweight construction, durability and the looks to take you anywhere in style.
So smart for work, play, and every day; this flattering, high-end Kasher TITANIUM® is the perfect choice for just about anyone!
Go on — treat yourself to a fashionable and fun Kasher® lighter tool that combines a tasteful sandblasted finish with the iconic Kasher® logo in gold or black to create a super-strong lighter tool made of pure titanium. You deserve the best.
Get one, and you'll be stylin' with the best Kasher® we make!
What's The Deal With Titanium?
The Kasher TITANIUM® lighter tool is not made with an alloy or with titanium chemical coating on steel. It's commercially pure grade 2 titanium, which we use for its high corrosion resistance and strength to weight ratio.
There are two types of titanium — pure and alloy. Both are used in lots of industries, including: aerospace, military, medical, jewelry, telecommunications and more. Commercially pure titanium is over 99% pure while titanium alloy (also called "memory titanium" or "bendable titanium,") is about 75% pure with 25% of other metals such as nickel or copper added. Both kinds are lightweight, durable and strong, but pure titanium exceeds titanium alloys in all of these qualities.
Ever Wonder Why People Buy The Kasher TITANIUM®?
If you want a Kasher® lighter tool that's good value, light, and stiff then you've gotta go with ….. stainless steel.
I know, I know, you were probably expecting us to sing the praises of titanium as the material that'll lead us to the promised land of lighter tool perfection. But titanium is not an everyman Kasher® material. Generally speaking a stainless steel Kasher® is fine for most people. So why would you drop the extra clams on Ti over stainless steel?
Millimeter Perfect Fit. An absolute top of the line lighter tool. Stiff but light, easily slidable for use, and comfortable.
Utility. Made with no moving parts, the Kasher® CLASSIC and the Kasher TITANIUM® both look great – smooth and tasteful – but the TITANIUM is truly one of a kind. Heavier and not quite as sharp, it's a special, multi-use lighter tool that you'll never get bored of.
Resilience. There's safety in titanium. It can take a lot of punishment without the vulnerability of steel. Titanium is a material that can be abused. The

Kasher

 

TITANIUM

® can take a punch. You don't have to worry about it hitting the ground when you pull it out of your pocket. It'll probably chip the bricks.
Quality. People wouldn't be dropping more money on the

Kasher

 TITANIUM

® if it wasn't the best. Designed for performance and luxury, they're the Grand Tourer of the lighter tool world.
Aesthetics. This might not be your main reason for buying Ti, but what's not to love about these lovely elliptical tubes? Sometimes we just like nice things. Some modern lighter sleeves are gopping awful to look at. With titanium you can sit back and enjoy the timeless lines and angles. Go on, show me an ugly

Kasher

 

TITANIUM

®. There aren't any. It's literally impossible to make pure titanium ugly.
Wrapping Up
TITANIUM is a great material for an upscale KASHER® lighter tool and we encourage you to buy it if you have the cash to splash. If you don't have the funds then our stainless steel KASHER® lighter tools are also a great buy. Put one in your pocket today.
Packaged with Care
We're a small business. For this reason, we pack each KASHER lighter tool by hand in Portland, Oregon. Because they come in a separate, premium case,
NOTE
: 
Lighters colors are assorted.